We're painting a brighter future through the
PAINT CIRCULAR ECONOMY HQ
The aim of Paintback is to divert unwanted paint and packaging from landfill and waterways and convert it instead into resources we can use again and again. This is known as a "circular economy" where what we use, we can reuse.
 
Until now, we've relied exclusively on external partners to help process our materials. But with the supply chain being nationally fragmented and not providing the optimum environmental outcome for our industry, it became clear we needed a better solution. 
The new Paint Circular Economy Headquarters (PaCE HQ)
You may have heard or received a notification announcing we're new to your area, or perhaps you've been following our progress all along. We're delighted to finally be able to announce work is underway on our new PaCE HQ!
Image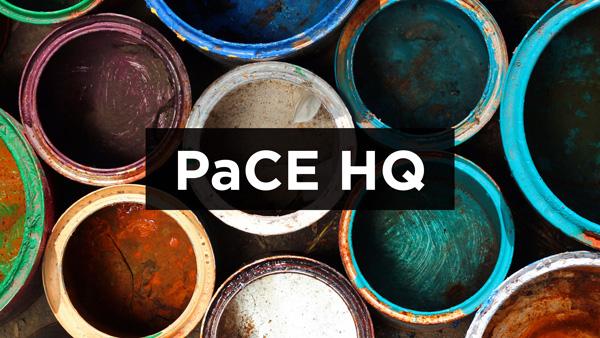 The construction
The construction of a new purpose-designed facility will enable us to continue the transition to a circular economy, taking a large part of the process in-house and under one roof.

From specialised end-to-end sorting and treatment of paint and packaging, that will convert these products into clean reusable resources. 
By taking our own place in the supply chain, we can further directly impact our industry for the better. We will continue to use the services of our industry partners where they make sense environmentally, geographically and economically. 
Image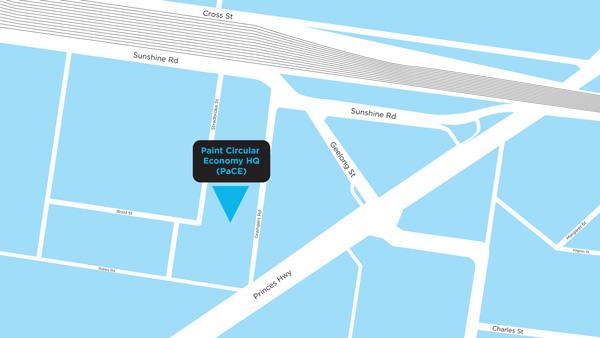 FAQs
We're sure you have questions, so we've included some FAQs below:
What have we been up to?
At Paintback we've been busy over the last seven years building a collection network across Australia and diverting unwanted paint and packaging materials destined for landfill. This means that less waste ends up there or cluttering up people's sheds and businesses. But we've still got a lot to do. Our planet's resources are finite, and we know we cannot continue to throw them out after we use them. So, the need to implement a circular economy is more important than ever. 

If you haven't heard this term before, it means taking the resources we'd normally throw away after using a product, and turning them into valuable stuff we do want.  It involves redesigning things and the materials we use to be less resource hungry, including fixing and refurbishing used items to extend their useful life.  It recaptures leftovers and remanufactures them into new materials and products. 

We call this the 'circular economy' because everything is reused again and again for as long as we can.
What are we doing with the new PaCE HQ?
We're building a new Paint Circular Economy Headquarters (PaCE HQ) that will allow us to handle dedicated end-to-end sorting and separation of the paint and packaging we collect, and convert it into re-usable materials. Transporting these materials to one location instead of around to different locations and keeping the entire process under one roof will allow us to keep our environmental impact as low as possible.
With our new facility, we will be able to better research and develop new ways to improve the repurposing of paint and its packaging and discover new possibilities for reusable resources.
Why is Paintback making this change to the way the scheme works?
The recycling industry is constantly evolving and improving and Paintback is doing the same.
As our scheme continues to evolve, the creation of the PaCE HQ is a huge step towards the implementation of a circular economy for architectural and decorative paint in Australia.
Like all organisations, our growth requires new, improved processes that will push us forward. The new specialty paint and packaging recycling plant will allow us to finally roll out the research and development efforts that we have long been planning. Our aim is very simple, it is to divert as much unwanted paint and associated packaging from landfill as possible, while at the same time increasing resource recovery.
How much paint will we process and where does it currently go?
This year, Paintback will collect over 9,000 tonnes of paint and packaging that would otherwise end up in landfill.  
Currently from the resources we receive, packaging and paint liquid will first be separated to allow containers to be recycled (subject to contamination). Solvent paint will then be used as an alternative energy source, while acrylic paint once separated from water, will reveal a by-product capable of being used in a variety of industrial applications. Combined, these actions will allow us to significantly reduce landfill. 
But we can do more and Paintback is undertaking research and development to solve the problem of how to extend the life of the valuable materials in the paint and packaging we collect and complete the circular economy for paint. PaCE HQ will be part of realising this research and development. 
Why do this now?
The Paintback scheme has grown to the point where it now has the scale and maturity to take our place in the supply chain and demonstrate how a fit-for-purpose operation can achieve better product stewardship with unwanted paint and packaging.

The investment is a measure of the Australian paint industry's commitment to being responsible for their product' lifecycle.
When will the new plant open?
The new plant is on track to open in the fourth quarter of 2023. 
What could the future look like?
With this facility, we will play our part in creating a new hub of Australia's recycling innovation focussed on our speciality – paint and its packaging.  
We have applied to be EPA approved and obtain Council permissions. And subject to that, we will become a key part of the recycling supply chain for paint and packaging. This is pretty neat, because by providing specialist processing that wouldn't otherwise be available to the industry, we can help keep valuable paint resources in circulation using science and engineering to make new products.  
Click here to find out more on Paintback's research and development programs.
Will you need EPA and Council approval?
Yes, we have applied for an EPA License and a Permit from the local Council. Both applications will open for public comment. Paintback will always be available to answer any questions from the local community and we welcome your feedback. 
Good neighbours
Being a good neighbour is important to us, and we'll always try our best to fit into the community. Wherever possible, we promise to employ local people at our plant. As a scheme created to help the world around us, we're always conscious of how we can help our neighbours. Whether that's creating local jobs or other ways to boost the local economy, we'll always do our best to be better neighbours.